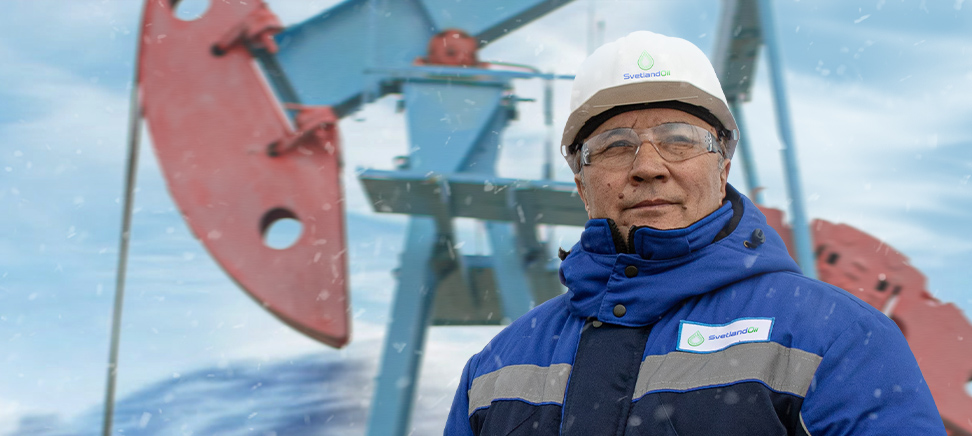 The key asset of "Svetland-Oil" is its talents. Now it consists of 60 people, and all of them are residents of the Atyrau oblast.
Demonstrated concern, financial incentives, and support for employees are an integral part of the life of the enterprise, where all production and living conditions have been created for them that fully meet the requirements of labor protection, safety, and sanitary standards.
The average age of our employees is 42 years. For all the period of the partnership's activity, 19 employees have taken a well-deserved rest due to the retirement age. Half of them, living in the Atyrau oblast, still maintain close ties and actively participate in the public life of the team.
The fact that there were none of the events of dismissal of an employee by an initiative of the employer for 30 years of the company's existence proves the efficiency of the decisions taken by us, and fluctuation of manpower is nearly non-existent.  
18% of the total number of employees have been working over 20 years, 12% - over 15 years, 35% - over 10 years, and 35% - up to 10 years. And behind these numbers stand the faith for tomorrow, dedication to the favorite pursuit, and commitment to the long and proud traditions of all members of our close-knit team.
The employees of the company have high standards of professional expertise and often demonstrate their creative activity and initiative.
The partnership always supports the strive of its employees to acquire new knowledge, skills, and proficiency. To enhance the efficiency of the labor organization and personnel development, the company persistently takes efforts to train the specialists to the secondary professions as well as refresher courses and advanced professional training, for which significant funds are allocated annually. The employment policy of the enterprise is closely related to the industrial and managerial policy, operated by the management, and performed through the personnel management system. These are specific measures to which refers the following:
staff planning;
organization, recruitment, and appointment of personnel:
setting up the pool;
labour organization;
assessment of business and professional skills of employees;
motivation and encouragement of employees;
training and improvement of the qualification of employees.