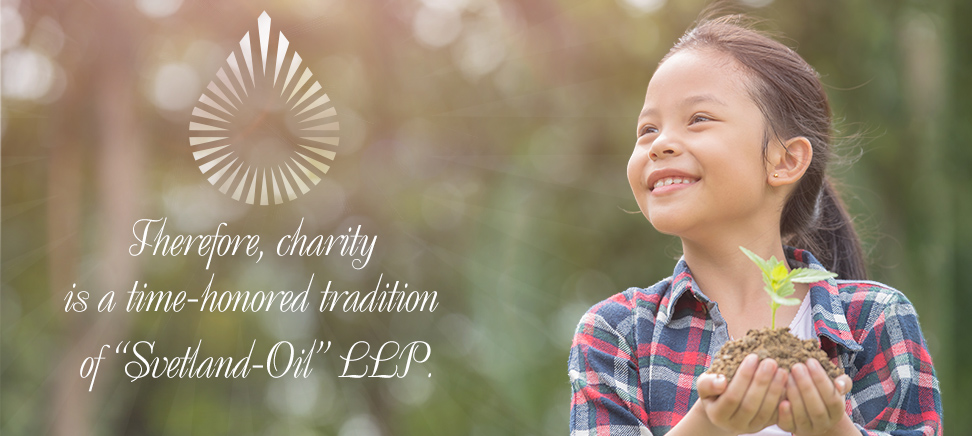 Corporate social responsibility is an important part of the successful development of the company. Therefore, charity is a time-honored tradition of "Svetland-Oil" LLP. The sponsorship is being provided by us on an annual basis to exceptional children, disabled people, and other citizens in need of help by their personal addressing. Donations are being made to charity funds.
Apart from production, one of the main activities of the company is support in solving social problems and improving the infrastructure of the region.
In the anniversary year 2021, we have been involved in the reconstruction of the central park and the arrangement of the playground in Zineden village, Isatai district, as well as the recreation area in Kurmangazy village, Kurmangazy district, of Atyrau oblast. These are the settlements where the employees of "Svetland-Oil" LLP live, and our production facilities are based.
For the last year, the company has provided charity support to:
Disabled children supporting fund;
Balykshy regional branch "Atyrauskoye oblastnoye obshestvo invalidov" JS;
Atyrau municipal society of the disabled;
Charity institution "Ak Zhaiyk";
"United Federation of Mixed Martial Arts MMA" NGO sports club "Mergen";
Akim's office of rural district Makash (by the initiative of Veterans administration);
as well as to the person as a parent of the exceptional child.
The education of the children of our employees, as well as children from families belonging to socially vulnerable segments of the population, has been financed.  
The company takes an active part in ongoing regional cultural events, allocates funds for awarding winners of sports competitions, provides all possible assistance to the leadership of the Atyrau region in the implementation of social projects aimed at improving the lives of the population.  
The general director of "Svetland-Oil" Abilkares Zhenis Abilkaresovich personally contributes to the positive changes in the Atyrau region as a deputy of the city maslikhat.
According to the results of the Social Responsibility of Business competition, the partnership's contribution to supporting socially vulnerable segments of the population was awarded the "Paryz" diploma.